With spectacular views of Savannah and its ever changing riverscape, the Savannah Convention Center, like the proud and elegant city it represents, blends the best of the old South with the new to offer a unique and memorable venue for your next successful meeting, tradeshow or special event.
A superbly functional, architecturally stunning 330,000 sq. ft. gleaming waterfront complex on the historic Savannah River features 100,000 sq. ft. of divisible exhibit space, 50,000 sq. ft. of prime meeting space, including 13 meeting rooms, four executive board rooms, a 25,000 sq. ft. Grand Ballroom, and a state-of-art 367 seat auditorium.
Overlooking Savannah's world-renowned Riverfront and landmark Historic District, the Savannah Convention Center is adjacent to the Westin Savannah Harbor Golf Resort & Spa. And just a two-minute water ferry ride away from other large scale hotels, eclectic and unique lodging options, charming inns and complimentary medium-sized hotel chains within the Historic Meetings District.
You have our pledge of personal service, professionalism and performance.
Testimonials
I was blown away by how beautifully you and your team executed our Rotary meeting Monday June 29, 2020. Every detail was perfect! As I stood on the podium with my dress billowing in the breeze from the open doors, I was struck how your team 'pulled it all off'.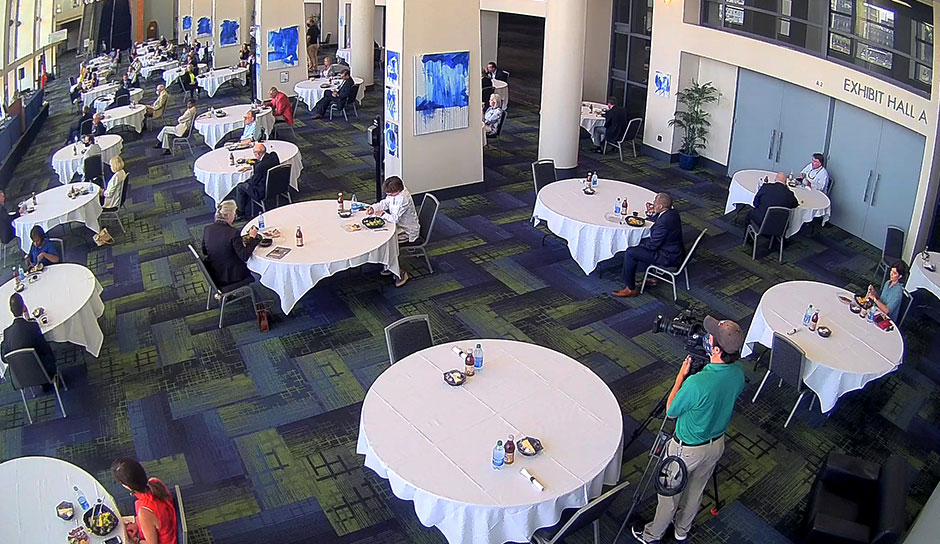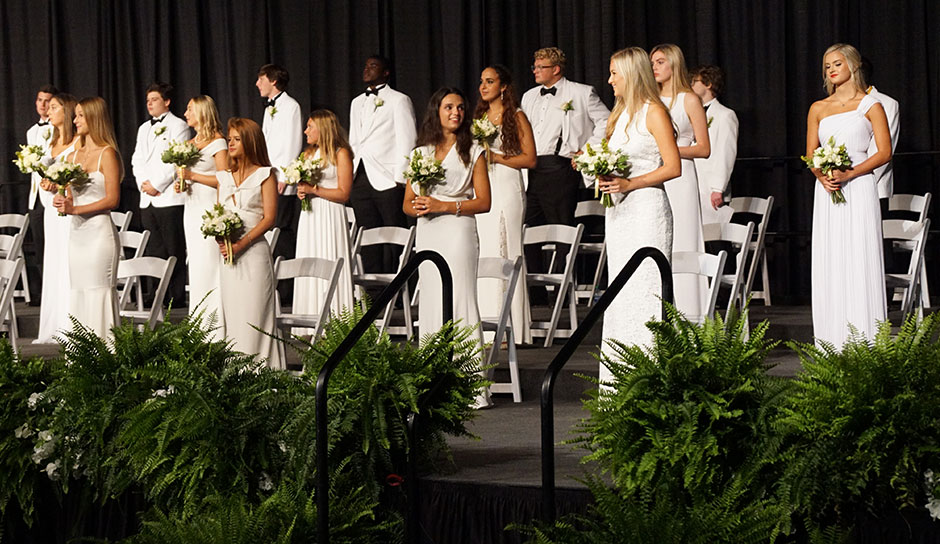 The social distancing was perfect, the food delicious, and the treat of being personally near each other, delightful. Thank you for all the email support and copying you did for us. It was a real treat for all of us.
Ellen B. Bolch
Immediate Past President / Rotary Club of Savannah
The staff at the Savannah Convention Center was amazing! They managed our large event extremely professionally, went above and beyond to be helpful and accommodating, and it was largely due to their attention to detail that our event was such a success.
Kef Wilson
Head of School / The Savannah Country Day School
We have used the Savannah Convention Center for over five years for our annual Hurricane Conference. The entire staff is always willing to help and provide assistance at all levels of our planning process. Their attention to detail allows us to focus on the conference content while knowing that the Savannah Convention Center is handling the venue, staffing and catering for our event. We look forward to working with the Savannah Convention Center each year!
Stephanie Cox
Chatham County
Our organization has been hosting the spring conference and training summit at the Savannah International Trade and Convention Center since April 2011. We are extremely pleased with the hospitable and professional staff who works with us to insure a successful conference. The food is also excellent and have always received good reviews by our attendees.
I am happy to recommend this facility to anyone seeking a great venue and city to host your event.
William Wright
Treasurer / Emergency Management Association of Georgia, Inc.
Building was well-maintained and well managed. Every staff member from housekeeping, security, setup crew, wait staff was pleasant, helpful, and professional. Honestly, I was impressed and grateful for every interaction.
Mike Rowan
Meeting Planner / Experient for Origami Owl
From my role in executing this event….you and your team made it so easy!! No matter the question or need…your team's response was… no problem, happy to handle this for you.
Marsha Bass
Community Relations Manager
The Savannah Convention Center has been a key part in making the Richmond Hill High School prom a success for the last several years. With our student body growing each year, the convention center helps accommodate our large group of junior and senior students and provides an amazing dance floor, water stations, and tables and chairs. The friendly staff are always so helpful and willing to go the extra mile to make any event a success.
Mandi Callaway
Exceptional Student Services / Richmond Hill High School
Catering
The Savannah Convention Center hosts banquet and social events for groups of a few dozen people to conventions of 10,000 and everything in between. Our award winning culinary staff will make every event a memorable one, on-site or off-property. Catering services offered by the Savannah Convention Center span the full spectrum of catering needs. Contact us today to discuss your event:
Angela Daniels, Director of Sales, Marketing and Event Services
Phone: 912-447-4030
adaniels@savtcc.com
Catering Packet
Learn More